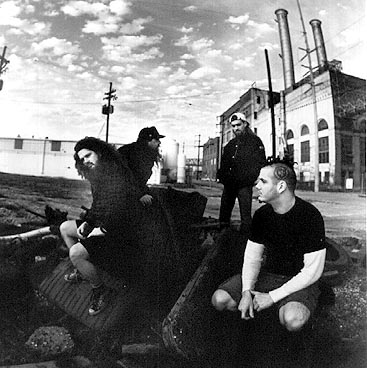 1983
Pantera formed in Arlington, Texas by founding members Darrell Abbott, brother Vince and Rex Brown. They release their first independent album titled Metal Magic.
1984
Second independent album Project In The Jungle is released.
1985
Third Independent album I Am The Night is released.
1988
Through the release of the three unsuccessful independent albums, the band became progressively heavier and to complete their direction added "the original circus freak" Philip Anselmo. With Phil, the band recorded their most successful independent album to date - Power Metal. The album, combined with their incredible live shows, gained Pantera a large underground following worldwide. Local gigs were performed at small club called Joe's Garage.
1990
Pantera sign with East West(Elektra)/Atlantic and release Cowboys From Hell produced by Terry 'Rope King' Date. The album breaks new ground with its own style and direction. Incoperating raw and aggressive energy with their polished songwriting and emphasising their trademark 'Power Groove', Cowboys From Hell is a worldwide success.
1991
Cowboys From Hell long form video is released and the band perform at the 'Monsters of Rock' Festival in Moscow. The Russian audience go 'Bugfuck' at the band's earth shattering brutality.
1992
Vulgar Display Of Power is released! Mouth For War off Vulgar Display Of Power was the first metal single ever to debut at #1 - beating Metallica's "Enter Sandman", while the album topped the U.S. metal charts for weeks on end! Critics are unanimous in their enthusiasm … Guitar World raved "Anselmo sings with the fury of a post office psycho" and the Village Voice called Pantera an "abgry, cantankerous, ferally aggressive band that channels all the free-floating rage of their environment into a muderous metallic growl."
1993
Pantera's first headliner tour of the UK begins. Band members prepare for the recording of the new album.
1994
Pantera releases a new album, Far Beyond Driven. "It's fucking heavy!" quotes singer Philip Anselmo. In March, Far Beyond Driven is released debuting at No. 1 on the Austrailian and U.S. album charts simutaneously. The world tour begins. The true definition of Pantera is their live performance, which literally rattles every bone in your body and crushes at your ears like a vice - a sheer hostile takeover.


1996
The Great Southern Trendkill is released. While on thier trendkil tour Phil Anselmo O.D'ed on heroin after a show in Dallas. Phil was clinically dead for over 5 minutes as his friends tried to revie him, he was soon revived in the back of an ambulance. Phil relased a press statement reguarding this situation and him kicking heroin. I will post his actuall statement here soon.


1997
Official Live: 101 proof is released. This album is composed of completely live performances of the band on tour, it also had 2 new studio tracks. Pantera's live performance of Cemetary Gates earned them a grammy nomination in the best metal performance catagory.


2000
Reinventing The Steel is released. Reinventing The Steel is Panteras first studio album in 4 years debuting at #4 on the Billboard album charts in the United States. The band co-headlines Ozzfest 2000 and After that headlines thier own world tour.