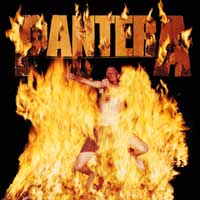 Tracks

1. Hellbound
2. Goddamn Electric
3. Yesterday Dont Mean Shit
4. You've Got To Belong To It
5. Revolution Is My Name
6. Death Rattle
7. We'll Grind That Axe For A Long Time
8. Uplift
9. It Makes Them Disappear
10. I'll Cast A Shadow





Description

Reinventing The Steel is a mixture of all the previous Pantera albums. Heavy riffs like that of Trendkill, more complex songs like Vulgar and Cowboys, and melody like Far Beyond Driven. Its a great album, you can listen to it over and over again and not get tired of it.



Click here for lyrics to this album.
History | Pictures | Video | Lyrics | Audio |
Albums | Tour Dates | Links | News | Bois | Main |

---