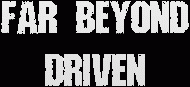 Tracks

1. Strength Beyond Strength
2. Becomming
3. 5 Minutes Alone
4. I'm Broken
5. Good Friends And A Bottle Of Pills
6. Hard Lines, Sunken Cheeks
7. Slaughtered
8. 25 Years
9. Shedding Skin
10. Use My Third Arm
11. Throes of Rejection
12. Planet Caravan


Click here to see the BANNED cover of Far Beyond Driven!



Description

Far Beyond Driven entered the Billboard charts at #1 ( First metal band to do that! ). PANTERA wrote and recorded this album in only 6 weeks, and it is fast heavy and agressive.



Click here for lyrics to this album.
History | Pictures | Video | Lyrics | Audio |
Albums | Tour Dates | Links | News | Bois | Main |

---